I baked Egg, Ham, and Cheese Muffins.
It was a lazy Thursday evening and it was POURING in Chicago. I've heard that this summer has been one of the rainiest summers but it's still quite depressing to see torrential downpours every other day 😦 Anyhow, I knew I needed to find something to occupy my time at home and decided to make these Egg, Ham, and Cheese Muffins I stumbled upon online.
They came from a blog I browse The Thrillist. They have a number of city guides to US cities and cover topics ranging from where to eat to where to drink to what to do. Within that, they have buzzfeed-like posts where they have lists of things to try. Breakfast sandwich in a muffin was one of them.
My experiment was based on a recipe they had for Sausage, Egg, and Cheese Breakfast Sandwich. They looked delicious and I'm constantly looking for things to bake that is not limited to dessert. So this is it.
It was my initial plan to follow the recipe as closely as possible, but due to the torrential downpour, the only place I could make it to was CVS across the street.
So, I substituted 3 things from the original recipe:
Ham for sausage (eh, not too much of a stretch)
Cornmeal with regular flour (a leap of faith here), and
Vegetable oil for canola oil (yeah, I don't know if this is good)
Here is the recipe (makes 6):
INGREDIENTS:
Cooking spray
6 eggs
1 pack ham
1 cup cornmeal
1 cup all-purpose flour
1/3 cup white sugar
2 teaspoons baking powder
1/2 teaspoon salt
1 beaten egg
1/4 cup canola oil
1 cup milk
6 slices American cheese, quartered into 4 squares
DIRECTIONS:
Preheat oven to 300°F.
Spray 6 molds of a standard size muffin tin with cooking spray and crack one egg in each mold. Fill the empty molds halfway with water. Bake for 20 minutes.
Cut the ham slices in squares that would fit into the muffin tin.
Remove eggs from oven and increase temperature to 400°F.
Grease a jumbo muffin tin. If you do not have a jumbo muffin tin, I just baked it using the regular muffin tins again but do know that you won't be able to cover the egg you baked using the same size pan. It'll be your egg and ham spillover to the side which looks extra-yummy though 🙂 
In a large bowl, mix together cornmeal, flour, sugar, baking powder, and salt. Add beaten egg, oil, and milk; stir gently to combine.
Divide half the batter evenly among muffins molds.
In each muffin mold, place 2 quarter-slices of cheese over the batter, layer with ham slices, another quarter-slice of cheese, baked egg, and one more cheese slice. Fill to the top with remaining batter. Bake until muffins are puffed and begin to brown, about 20 minutes.
I followed the time, temperature and procedures on the recipe. It turned out pretty well!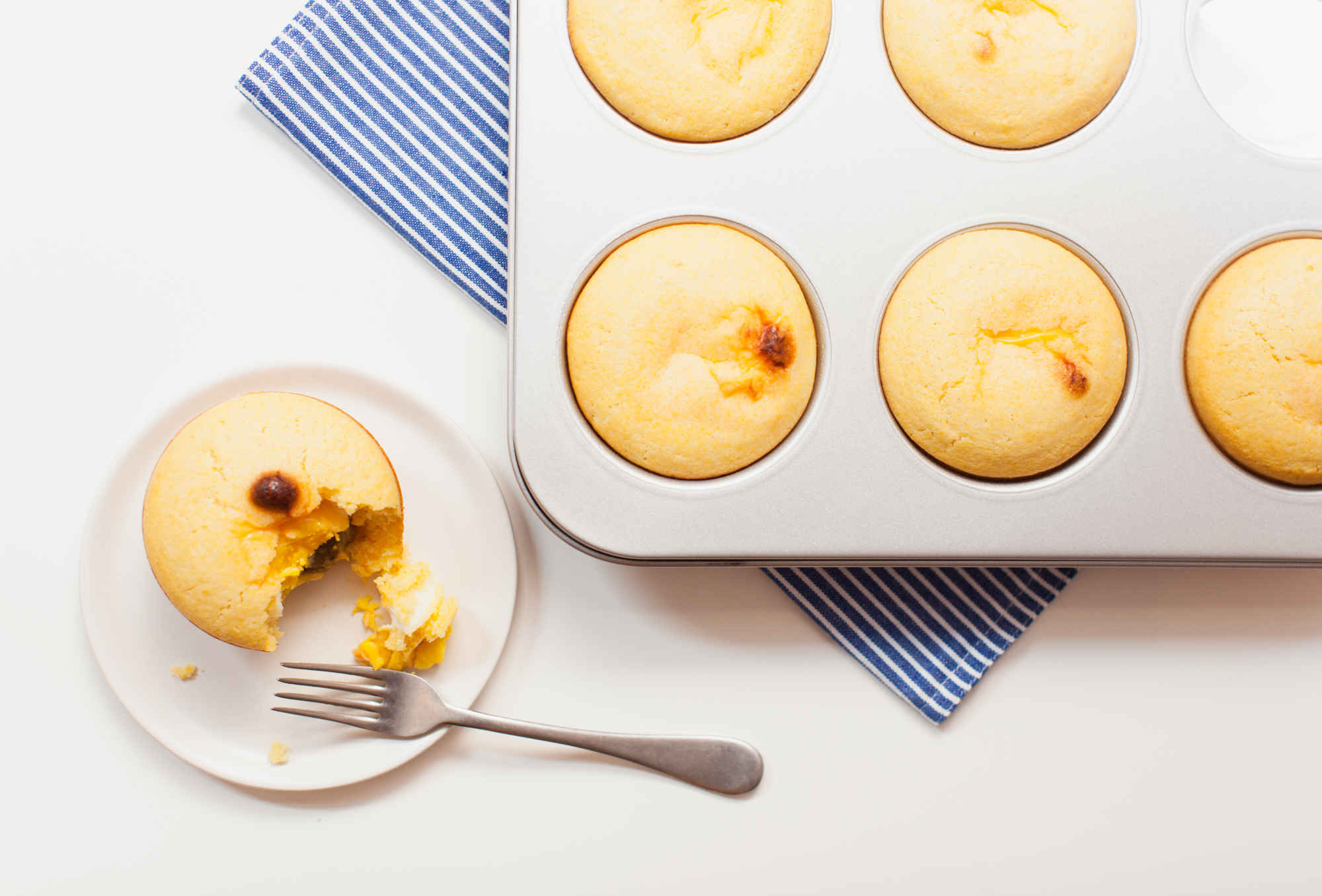 picture from Thrillist
I had 6 of them. Ate one myself and shared the rest with my 5 other friends at work the next morning 🙂
-S